How to reduce water waste in the company is not so simple.
In fact, water represents an increasingly precious and less accessible resource for a large part of humanity, also due to climate change. It is no coincidence that the UN 2030 Agenda has included objective 6 ("Ensure availability and sustainable management of water and sanitation for all"), and the United Nations has decided to dedicate the decade 2018/2028 to the issue "The water for sustainable development ".
When we decide to reduce water waste in the company or in any other context, it means that we take responsibility for the repercussions of water scarcity on an environmental and social level, but also that we are aware that it is an indispensable and precious resource to guarantee the economic growth of nations and companies.
In fact, according to an estimate by the World Bank, by 2050 water scarcity could cost some areas of the world up to 6% of their GDP. And the most recent United Nations World Water Development Report reports that companies around the world recorded nearly 33 billion euros in water-related financial losses in 2018.
Going into the details of individual companies, choosing to reduce waste naturally means avoiding excessive costs in the bill and, indirectly, also reducing the risk of damage and the investments necessary to remedy it.
Let's see below what can be done concretely to reduce waste in the company.
Check for water leaks
The first and perhaps most obvious step to reduce water waste in the company is to check for leaks. More precisely, the check consists in eliminating water leaks and preventing further leaks.
The detection of water leaks in the company is not always easy and immediate. In fact, most of the time these are small incremental spills, which however can cause a huge waste of water and, at the end of the year, also a substantial economic damage.
Whether caused by obsolete systems, leaking pipes, dripping taps or toilet cisterns that do not fill and do not drain properly, it is always important to regularly check for leaks and intervene if you want to reduce water waste in the company.
Find our retailers
Find out where to buy the WATERBLOCK that best suits your needs
Replace old taps
Deciding to replace old taps and older systems is an excellent tactic to reduce water waste in the company. By installing taps equipped with jet breakers or aerators, it is possible to reduce water consumption by up to 70%.
If we add to this technical choice also the awareness of the collaborators towards a more conscious and sustainable use of the water resource, water saving will be ensured and the corporate culture will be enriched with sustainability.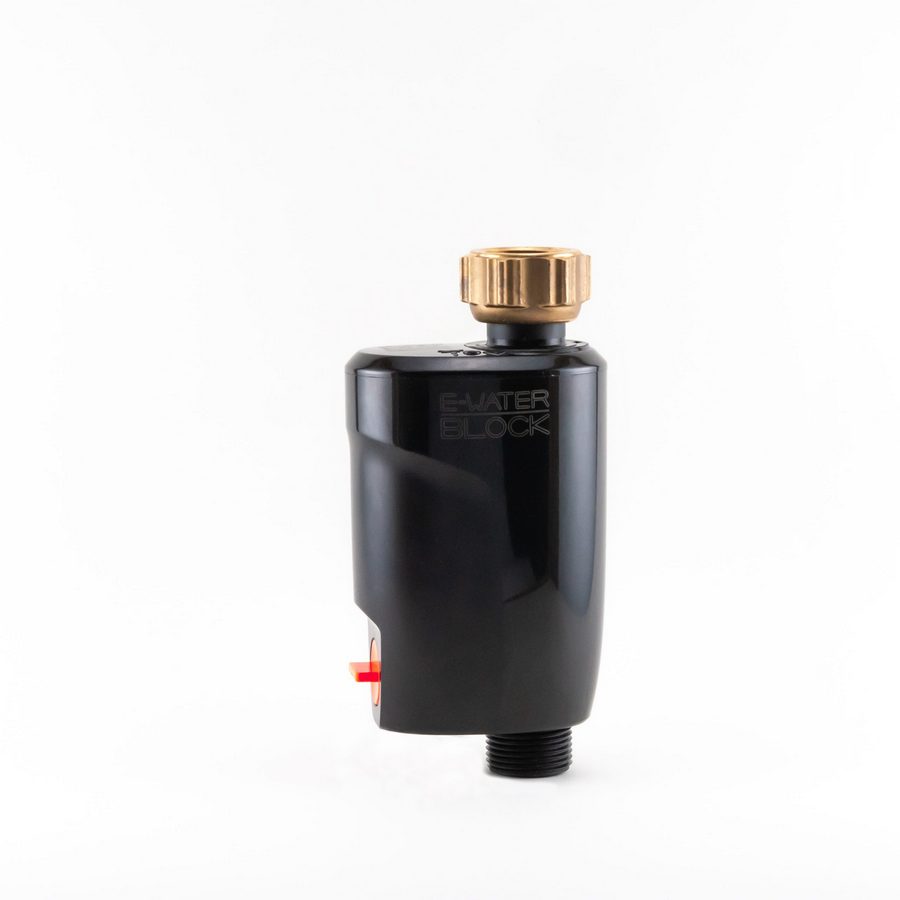 Use innovative solutions
Even deciding to seek innovative solutions for systems, devices and equipment that transport, use and distribute water is a choice that helps reduce water waste in the company. An example is certainly given by low-water consumption appliances.
Other interesting solutions (more complex and which still require substantial investments) are for example the recovery of gray water through phytoremediation or other water reuse systems (for sanitary use).
Monitor the waste of water
The most effective solution to reduce water waste in the company probably derives from the choice to constantly monitor the water flow, in order to be able to stop it if anomalies are detected.
For this purpose ELTEK has designed E-WATERBLOCK, an anti-flooding safety device that monitors the water flow and stops it when the latter is out of previously set range.
E-WATERBLOCK "dialogues" with a dedicated App. So you can connect directly to the device, configure and monitor its status, and access data relating to water consumption in the previous 12 months.
With E-WATERBLOCK it is possible to really prevent waste of water in the company and all the damage that may result from leaks, drips and breakages.
RELATED POSTS
Blog & News
How to detect if a water leak is in the house?
Scopri di più
Water leaks at home: causes and solutions
Scopri di più