Having adequate solutions to track water consumption is essential for both private and family contexts, as well as for businesses and organizations.
In fact, tracking water consumption is the most effective way to detect any anomalies, find their causes and identify the most suitable interventions.
It also allows implementation of saving strategies, not only for the management of the water resources, but also for all the costs related to this resource and its use (e.g. energy, gas, labor, etc.).
Building automation allows monitoring water consumption in public or private buildings not intended for residential use. In the houses home automation offers this possibility.
In both areas, in any case, ELTEK Appliance offers tools suitable for tracking water consumption and optimizing its management.
In addition to flowmeters and flow switches, the range also includes safety devices:
WATERBLOCK;
E-WATERBLOCK.
These are "smart" tools that can detect any irregularity in the water flow, blocking it if necessary.
These devices allow for example to avoid water consumption caused by a hidden leak, and indirectly to reduce any damage caused by it.
Waterblock
Mechanical WATERBLOCK is the first generation device designed by ELTEK Appliance. It aims to quickly detect and block water anomalies.
The nominal water volume that passes through the device is between 5 and 50 liters, and is preset directly on WATERBLOCK. The device measures the passing water and stops the flow in case of exceeding volumes.
To get it started again, you only need to perform a manual reset by using the appropriate reset accessory.
The mechanical WATERBLOCK device is also available in an ANTI-LIMESCALE version, for greater protection of the parts which have a direct contact with water (i.e.: gaskets).
Find our retailers
Find out where to buy the WATERBLOCK that best suits your needs
E-Waterblock
E-WATERBLOCK is able to monitor a nominal water volume between 2 and 200 liters. It is an electronic instrument which can also operate manually just like WATERBLOCK. Thus both devices do not require electrical power and carry out their basic functions even without power.
Through the dedicated APP, which can be activated via Bluetooth near the application, E-WATERBLOCK allows:
configuring the safety device by connecting directly;
monitoring its operation;
having access to the history of water consumption in the last 12 months.
Battery lasts for more than 3 years.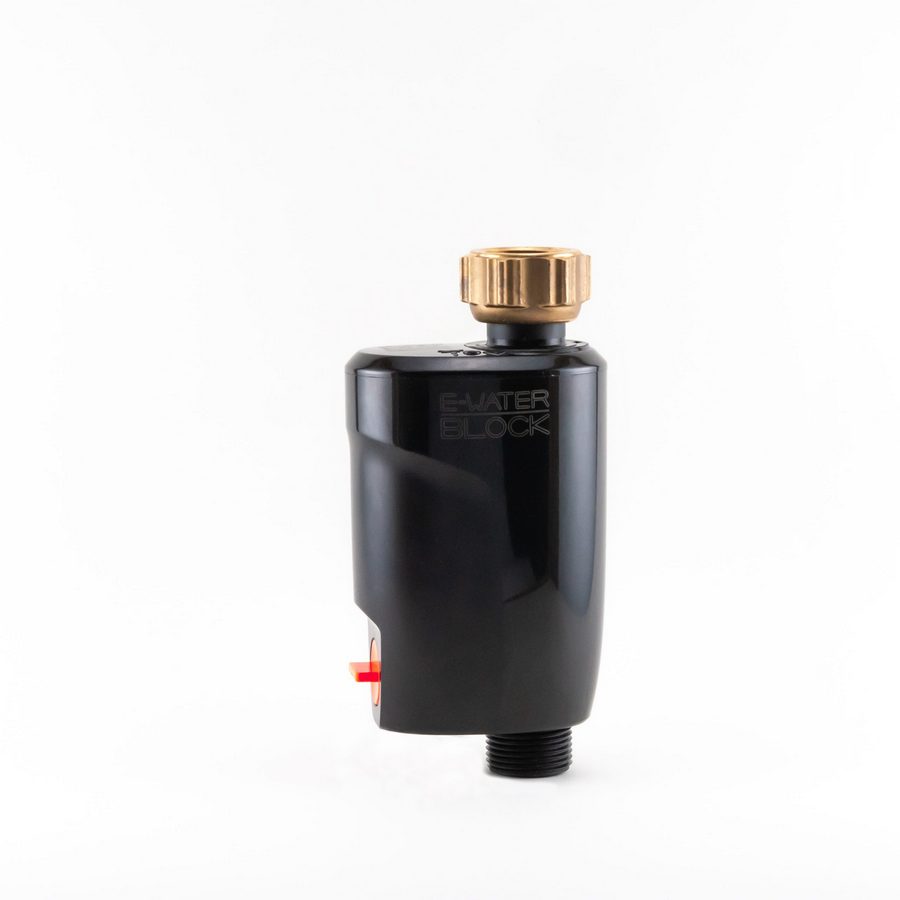 Differences
About performance, the WATERBLOCK and E-WATERBLOCK devices have more common elements than differences.
In fact, both are characterized by:
ease of installation (between the water tap and the application inlet hose);
autonomous operation even without power;
resistance and durability (they can exceed the transit of over 300,000 liters of water).
They differ in nominal water volumes they can monitor, and above all the management via APP offered by E-WATERBLOCK.
RELATED POSTS
Blog & News
How to detect if a water leak is in the house?
Scopri di più
Water leaks at home: causes and solutions
Scopri di più