Saving water is one of the crucial issues of our time. This problem can be addressed thanks to some precautions and the use of building automation devices.
Nature sends clear alarm signals: snow is scarce, the water of lakes and rivers in many areas of the planet is already at very high levels of drought in the early summer months.
The Mediterranean area is one of the most affected in the world, both due to the greater sensitivity to climate change and the partial inefficiency of the water network. In particular, Italy, with its frequent drought warnings, is one of the European countries with the highest water consumption. The Civil Protection estimates a 40-50% decrease in rainfall in recent years and even 70% less snow. The flow rate of the Po (the most important river in Italy) has dropped by 80% and in some areas the impact on the agricultural and fishing economy are highly impacting.
This leads to inevitable choices that affect the distribution of water and require its rationing.
In a moment of emergency like this we can call for small daily actions that allow us to save water, looking at the safety of our planet Earth.
Hence the need for a guide for saving water to which people can refer, making their contribution to the environmental cause and obtaining important savings in the bill.
From bathroom to kitchen to garden activities, here are some useful tips for saving water.
Tips
A few simple actions can significantly reduce our water impact on the environment.
Prefer a short shower to the bathtub. Up to 150 liters of water are consumed to fill a bathtub, while with a shower the consumption varies from 6 to 10 liters of water per minute. However, if we want the choice of shower to be useful, we must reduce our time spent under the warm water jet, bearing in mind that this behavior will also allow us to have some pleasant surprises on the next bill.
Turn off the tap while brushing or shaving. A small precaution that allows us to save up to 6 liters of water every minute. It is easy to imagine how many will be lost otherwise.
Choose a water-saving toilet cistern. The new toilet cisterns have an usual capacity of 12 liters, but allow you to choose the reduced flushing of only 6 liters, with an average annual water saving of about 26,000 liters.
Repair leaking taps. Each dripping tap can cause a loss of water equal to about 21,000 liters per year with an important effect on the environment and water costs. The intervention of the plumber is enough to solve the problem in a few minutes, to save and avoid important consequences.
Install tap aerators. The tap aerator allows you to use less water with the same performance, since it delivers air together with the water, without reducing the jet. Thanks to it, consumption can be halved.
Use the washing machine and dishwasher with full loads. It is a simple precaution that allows you to reduce water consumption by approximately 8200 liters per year and at the same time save electricity.
Recycle the water from the dehumidifier or air conditioner. Reusing water from the air conditioner or dehumidifier for iron is a great idea. This water is completely free of limescale and in addition to saving water, this simple gesture also extends the life of the appliance.
Choose "Energy star" appliances. The new dishwashers and washing machines allow you to adjust the amount of water dispensed according to the load, allowing you to save up to 50% per year.
Thaw at room temperature. Some people have a habit of defrosting food under running water, wasting about 6 liters of water per minute. A useful precaution to save money is the habit of letting them defrost in the air in a basin filled with a little water.
Recycle the water from the fish tank. Even for gardening, some tips can allow you to save water. For example, recycling the water from the fish tank and using it to water the plants is an excellent solution, both for saving water and for feeding our small crop with a liquid that is naturally rich in fertilizers.
Install a phytodepuration tank in the garden. This small natural purifier is useful for filtering black and gray water and returning water for irrigation. The common reed is one of the plants recommended for this purpose, because it feeds on the substances present in dirty water.
Cover the pool to slow evaporation. A useful tip is to use a floating cover to limit water evaporation. In this way it is possible to save from 1000 to 4000 liters of water per month.
Close the central tap when you leave. This is an excellent tip to save a lot of water in case of system failures in our absence. It is good to consider that this could also cause damage to structures and walls, with consequent huge costs.
Check the water meter regularly. Checking consumption allows you to notice any leaks in time and to become more aware of your waste.
Find our retailers
Find out where to buy the WATERBLOCK that best suits your needs
Methods
If we add some useful methods to these tips, saving water becomes a fairly simple operation. Even the use of technology can allow us to obtain excellent results to prevent any leaks and limit water waste.
Saving water through building automation is an increasingly popular method. In addition to saving, it also helps prevent the risk of damage caused by leaks to systems and pipes, especially in the case of condominiums, commercial buildings or the tertiary sector.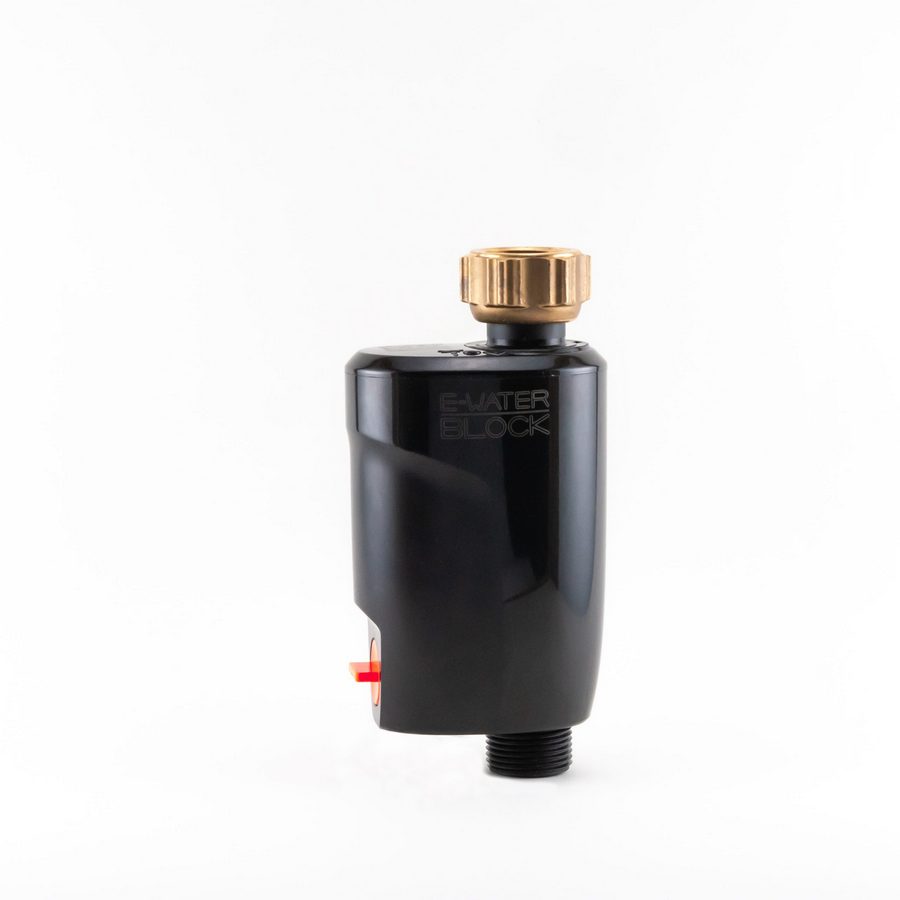 Tools
Technology, as we have said, provides us with various tools that allow reaching a good level of safety and savings without compromise.
It is appropriate to mention the ELTEK Appliances, including E-WATERBLOCK, an intelligent device that allows us to detect anomalies in the water supply, and to block the flow of water before excess consumption occurs.
E-WATERBLOCK must be installed upstream of the water connection and is activated automatically in the event of anomalies in machines used for the distribution of water, drinks, coffee or ice. It is a tool for protecting water consumption even in highly frequented environments such as offices, airports, railway stations, shopping centers, wellness centers, gyms, hotels, restaurants, public places and more.
Thanks to its ability to prevent water waste, E-WATERBLOCK is also effective in eliminating the risk of excessive consumption and water damage in the home.
It does not require maintenance or even electricity, making it environmentally friendly from several points of view and can be monitored through the special ELTEK APP application. It sends notifications and immediate reports in the event of anomalies, and allows accessing a consumption history in the last 12 months.
RELATED POSTS
Blog & News
How to detect if a water leak is in the house?
Scopri di più
Water leaks at home: causes and solutions
Scopri di più