Anti-flooding systems for companies are a very useful tool to reduce the possibility of water damage, and the related economic consequences and risks to health and safety.
Among the main causes of water leaks that make anti-flooding systems advisable for companies, we find:
property design defects;
faulty pipes and/or subjected to drastic changes in temperature;
clogging.
Late detection of losses caused by these factors can cost a lot. According to the "United Nations World Report on the Development of Water Resources 2021", financial losses related to water in companies in 2018 exceeded 32 billion euros.
Furthermore, not preventing or promptly detecting the flooding of a company premises can compromise the safety of people and the integrity of the machinery, especially in the presence of electricity.
Anti-flooding systems for companies
Anti-flood systems for companies detect water leaks even in places where such an event could go unnoticed for a period of time. Thus they make timely intervention possible to prevent further damage.
Anti-flooding systems for companies can be installed wherever there is a risk of flooding or large presence of water, both in residential and industrial environments: for example sanitation, pipes and pumps, washing machines and dishwashers (both domestic and industrial), etc.
Floods can originate from various causes in addition to those already mentioned, including:
heavy rains that clog sewers and drains;
losses of roofing material such as tiles, gutters, downspouts, flashings;
burst water supply or broken pipes;
mud, dirt, and debris in sewers that clog drain systems;
damage from hail;
and more.
All of these situations can occur at any time and without warning, which means that adequate preparation is required. Installing the appropriate anti-flooding systems for companies means ensuring more time to intervene in case something goes wrong.
Most of the time this means saving a large amount of money, because an undetected leak for a long time can cause high repair costs.
Find our retailers
Find out where to buy the WATERBLOCK that best suits your needs
Types of anti-flooding systems
There are two main types of anti-flooding systems for companies:
wi-fi anti-flooding systems with sensors to be placed on the floor, where there is a greater risk of breakage, leaks or infiltrations;
detectors installed along the water pipeline, which monitor the water flow.
These two types of anti-flooding systems perform different functions, but they can be used in a complementary way.
The wi-fi anti-flooding systems are also called passive systems. They include sensors that are sensitive to contact with water, which are positioned in areas that present a greater risk. When these sensors get wet, the system sends an alarm signal via wi-fi.
Among the disadvantages of most passive systems there is the fact that they do not automatically block the flow of water, but require an intervention for it. Moreover they are battery operated, and this latter must be checked regularly.
Instead, the "smart" water flow detectors are based on preset values and stop the flow itself as soon as they detect any anomaly. For this reason they are also called active systems.
Their effectiveness in preventing water damage is certainly greater, moreover they have the advantage of having a mainly mechanical operation, which does not require electrical power and is able to function even in the event of a blackout.
This type of anti-flooding systems (for companies but also for residential use) include the WATERBLOCK and E-WATERBLOCK devices designed by ELTEK Appliance.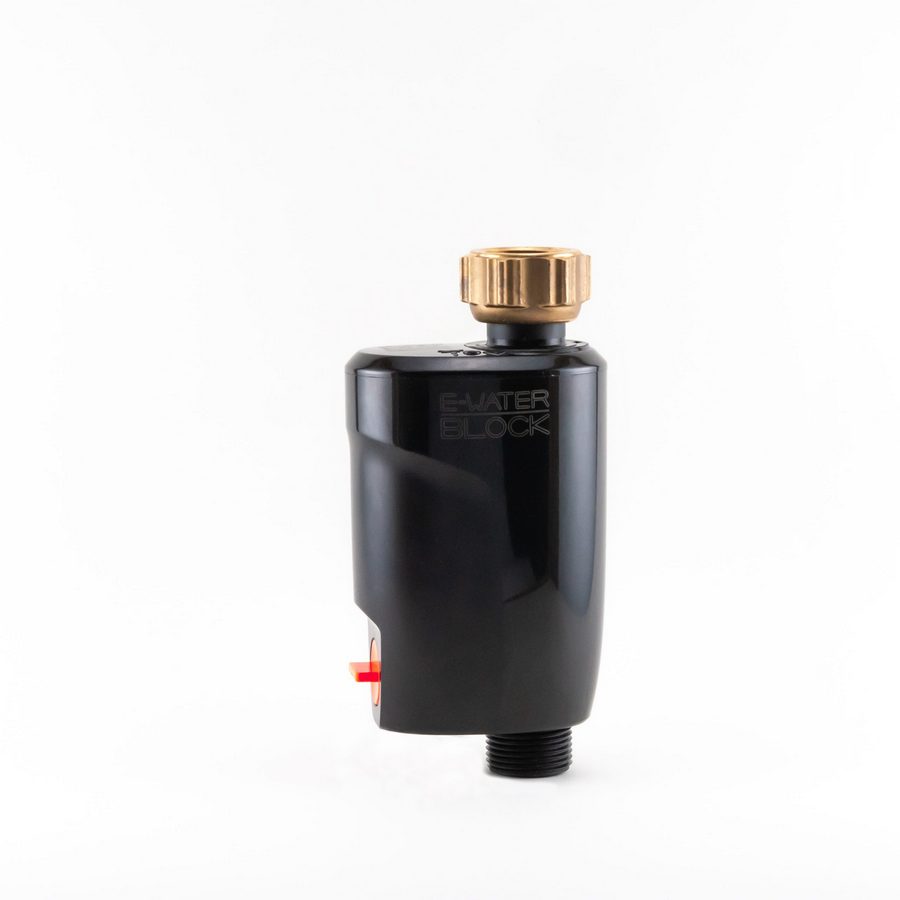 Anti-flood systems to prevent water damage
The WATERBLOCK and E-WATERBLOCK devices prevent any type of water damage. They can be integrated into all anti-flooding systems for companies.
Easy to install, they must be positioned between the water tap and the power supply pipe of the application (for example a coffee and beverage dispenser, or an industrial washing machine).
The first generation WATERBLOCK device monitors the transit of a nominal water volume between 5 and 50 liters. In case of anomalies about the set value, the device immediately stops the flow of water.
In the WATERBLOCK ANTI SCALE version, the device is equipped with magnets that generate a field capable of modifying the physical characteristics of the limestone crystals. In this way, these do not stop inside the pipes, nor do they encrust the components of the equipment that are in direct contact with water, such as gaskets.
The E-WATERBLOCK device monitors a water flow set between 2 and 200 liters in "always on" mode. The APP combined with it allows you to connect directly to the device and configure and monitor its status.
ELTEK Appliance WATERBLOCK and E-WATERBLOCK devices are characterized by extreme reliability and virtually unlimited resistance and duration. They have been designed to easily overcome the transit of over 300,000 liters of water.
Integrating these devices into anti-flooding systems for companies means promptly detecting any leaks and above all immediately blocking the water flow, avoiding all the related unpleasant consequences.
RELATED POSTS
Blog & News
How to detect if a water leak is in the house?
Scopri di più
Water leaks at home: causes and solutions
Scopri di più